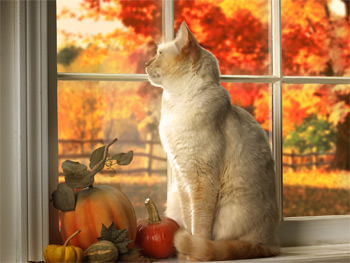 Autumn officially began six weeks ago, but I never really feel like Autumn has arrived until about Halloween. That's when all the trees have turned to shades of red and gold, the nights are crisp, and a fragrant fire in our wood stove is a common occurrence.  Quintessential Autumn icons, all.
The animals know it's Autumn too. We have four cats, all from feral stock. They're burly and tough, and enjoy nothing better than hunting small game all night in the nearby fields. In the summer we sometimes don't see them for days. But as the nights cool, I find them tucked onto the back of the couch or into the seat of a chair, prepared to snooze there all night in the cozy warmth of indoors.
This Autumn has special significance for me, having just come through surgery for cancer. I am still facing four months of chemotherapy, determined to make the best of things and grateful that I went and had my symptoms checked when I did. There is every chance that I'll see many, many more Autumns. But we never know, do we? So I am savoring the crisp night air, the gold trees, the frosty grass, the purring cat, with a special, honed awareness. We do not go on forever. Our Autumns are numbered.  Take a moment to stop and notice that THIS one, surely, is the sweetest and best.
~ Nola
"Small Town ~ Big Love."